Northern Colorado Gutter Repairs & Replacements
When is the last time you examined your gutters? Gutters don't last forever, and once they start to fail water will start to damage your siding and foundation. You can tell if your gutters need attention by checking for cracks or splits. Peeling paint, rust marks, and pools of water or mildew around your foundation are other signs to look for. Sagging gutters means supporting brackets have failed, or the gutters are rotted.
Tornado Roofing & Gutters can repair or replace your home or business gutters with quality gutters that can last up to 20 to 50 years. Gutters are often overlooked, but they serve a critical role in protecting your investment.
10 Reasons Why Good Gutters Matter
Gutters aren't glamorous. Basically, they drain the water that runs off your roof to a designated area away from your house's or building's foundation. But, they don't get enough attention. Quality gutters are a must have if you want to protect your home or business from water damage. They must be properly installed and maintained. Good gutters do more than you think:
1. They stabilize the soil around your home or business by redirecting runoff water
2. They prevent costly foundation damage
3. Gutters prevent flooding under your house and in basements
4. Properly placed gutters prevent erosion
5. Gutters prevent water damage to your home's siding
6. Gutters prevent water stains on brick and stone masonry
7. They stop settling and cracking on sidewalks and driveways
8. Exterior doors and garage overhead doors are preserved
9. Landscaping and turf are protected
10. They help prevent termite and mosquito infestation
Hail Damaged Gutters
Hail damage to gutters is common and easy to see if you know where to look. Hail damaged gutters usually have dings or indentations. Unless the hail has punched a hole in your gutter – which is possible – hail damage is mostly cosmetic. However, you should be aware that insurance companies will pay for replacing hail damaged gutters.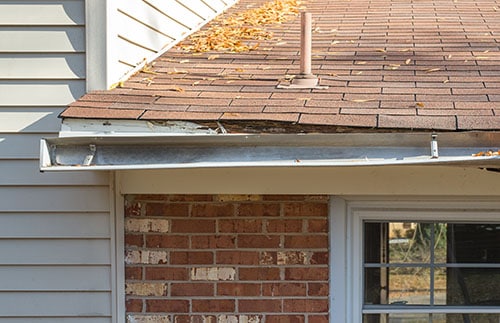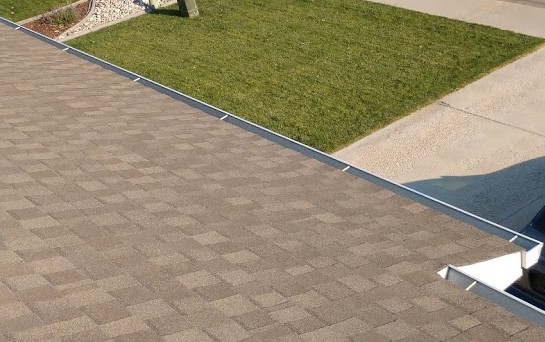 Types of Gutters
Residential gutters are typically 5 inches in diameter while commercial gutters have a 6-inch diameter. Whether you would like traditional rain gutters or seamless gutters, you can choose from aluminum, galvanized steel, and copper. The materials are usually matched to the design of your property and comes with a different lifespan rating.