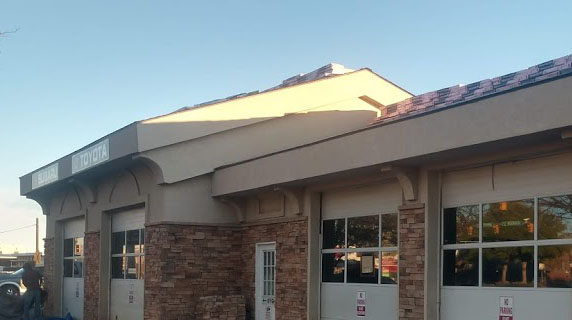 Metal commercial roofs are very affordable and come with an exceptional lifespan of 50+ plus years. They come in a variety of different styles and hundreds of colors. They're among the strongest roofing systems when it comes to weather resistance with some having a 140 mph wind rating. Metal roofs are also fire resistant which provides you with an insurance discount in some cases. They're also easy to install, which means minimal labor costs and disruption for your business.
Asphalt shingles for commercial buildings are a popular choice for several reasons. They come in an incredibly wide range of designs, colors, and textures. Asphalt shingles are easy to install, repair, and maintain.  They have an excellent life cycle cost because they are lower maintenance than many other roofing systems. They're also more affordable to install, repair, maintain, remove, and dispose of. A high class, weather resistant shingle roof can protect your commercial building for many years.
There are two main types of single-ply membranes in commercial roofing. Thermoplastic Polyolefin (TPO) and Ethylene Propylene Diene Terpolymer (EPDM). They differ in their chemical makeup, how they're installed and their energy efficiency.
TPO – White TPO is a durable, versatile and cost-effective solution for both new roofs and re-roofing projects. It has minimal maintenance requirements, and it's high UV reflective properties can dramatically reduce your energy costs for your facility. It's 100% recyclable can qualify for tax credits due to its energy efficiency and green benefits.
EPDM – EPDM rubber roofing is lightweight and can cover your existing roof. This means no disposal of your old roof. The installation is fast and quiet. Because there are very few seams the roof becomes water tight and prevents leaks. EPDM roofs can last up to 20 years.